Design and Size:
The new Elite ceiling fan from Martec proves that you don't need a massive 60" blade span to enjoy a modem stylish 3 bladed design. Coming in at 48" (1200 mm) span the Martec Elite fan is perfect for rooms that are limited with size, or may have downlights that would cause a strobing effect with a larger fan.
The current three blade elegant design that we have seen come about in the past year or so has been hugely popular as these fans often perform really well despite having a continuous and flat looking blade design. However in most cases these style of fans are very large being around 60" (1500mm roughly) making them only suitable in larger or open areas. Furthermore the blades of the Martec Elite are moulded ABS rather than timber. This is a big benefit for several reason such as being more consistent and therefore better balanced than wood or timber, safer, lighter and quieter than metal blades, and are usually the easiest to clean than timber or metal blades as dust sticks less often and cannot form rust spots.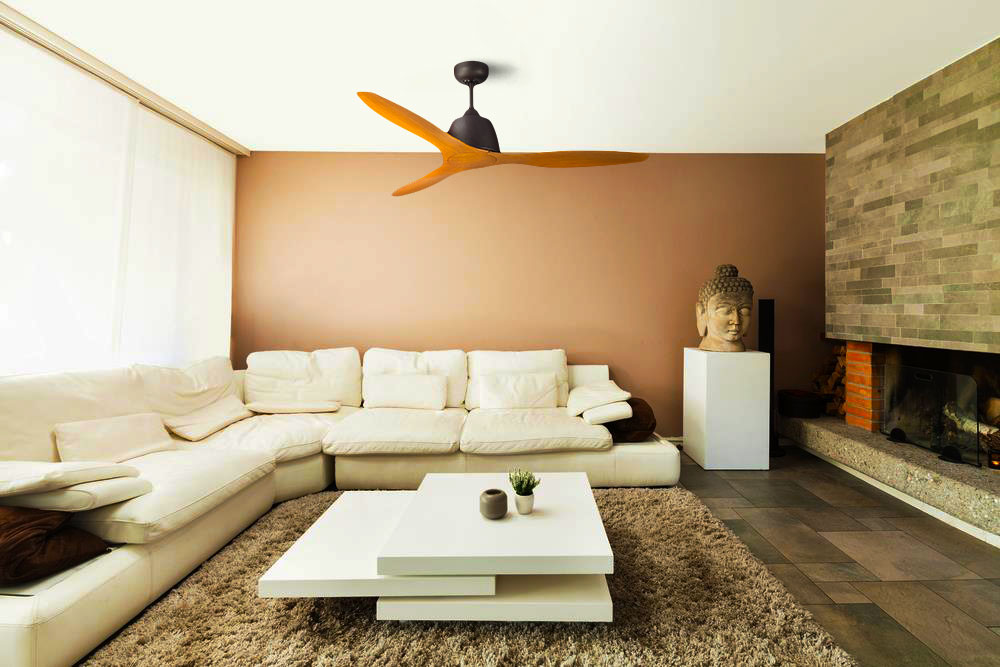 Light Option:
Having an LED light option with the Martec Elite ceiling fan means that you do not need to rely on external lights for you room such as downlights. This not only makes it much easier to have the fan installed in a smaller room (as often other lights can get in the way) but is usually a more cost effective way to have both a fan and light installed. Furthermore the light cover of the Elite is made from plastic rather than the traditional glass. This is a huge benefit, even though with LED lights the average person does not need to remove the cover to change globes, the glass covers can very easily get stuck making it very difficult to take off. To make things worse, the glass very easily breaks if accidentally dropped during cleaning or if it is accidentally hit; and it doesn't take much force to break it. Not only is the plastic cover much easier to remove for cleaning, it is also much harder to break as it is not so rigid and delicate as the glass covers.
The light on the Martec Elite fan is no ordinary light, not only is it a dimmable LED running at only 20W but has a CCT (colour changeable temperature) switch built in. This is a relatively new feature for some high end LED lights which allows you to change the colour temperature of the light from a small switch. The CCT switch in the Martec Elite allows you to change from a warm white (3000K), a natural/neutral white (4000K) or to a cool white (5000K). With the new CCT switch in the LED light of the Martec Elite fan you don't have to decide upfront which colour temperature suits you room. Plus you can always change it with a flick of a switch should you have a change of heart. You can see in the picture below of the LED plate of the Elite the CCT switch in the centre surrounded by the LEDs. The CCT switch is marked on three positions with C, N and W referring to Cool, Natural/Neutral and Warm.
Learn more about light colour temperature and what 3000K,4000K and 5000K means.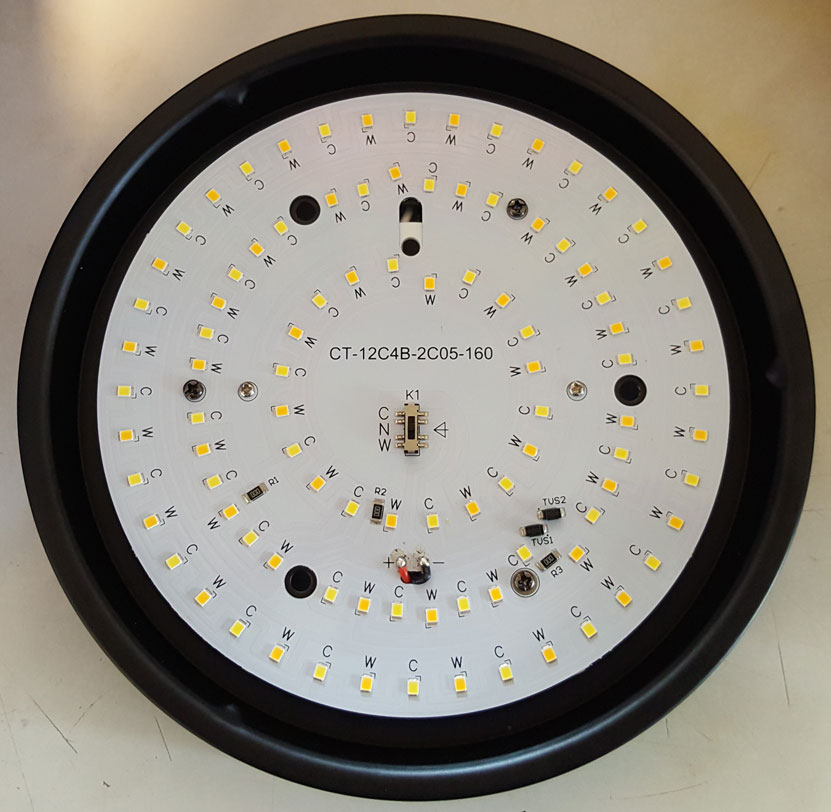 The LED panel with cover removed, found inside the Martec Elite fan showing the CCT switch surrounded by the LEDs.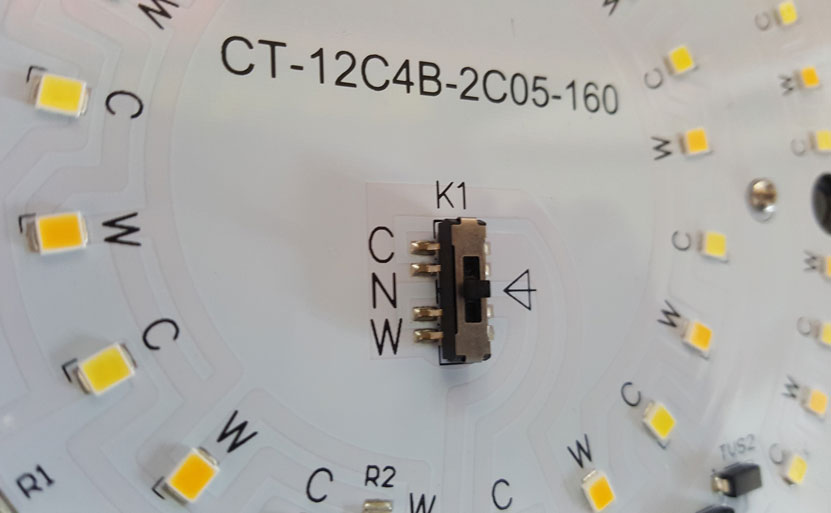 The CCT switch showing the three light colour temperature options of Cool White (5000K - marked C), Natural/Neutral White (4000K - marked N) and Warm White (3000K - marked W).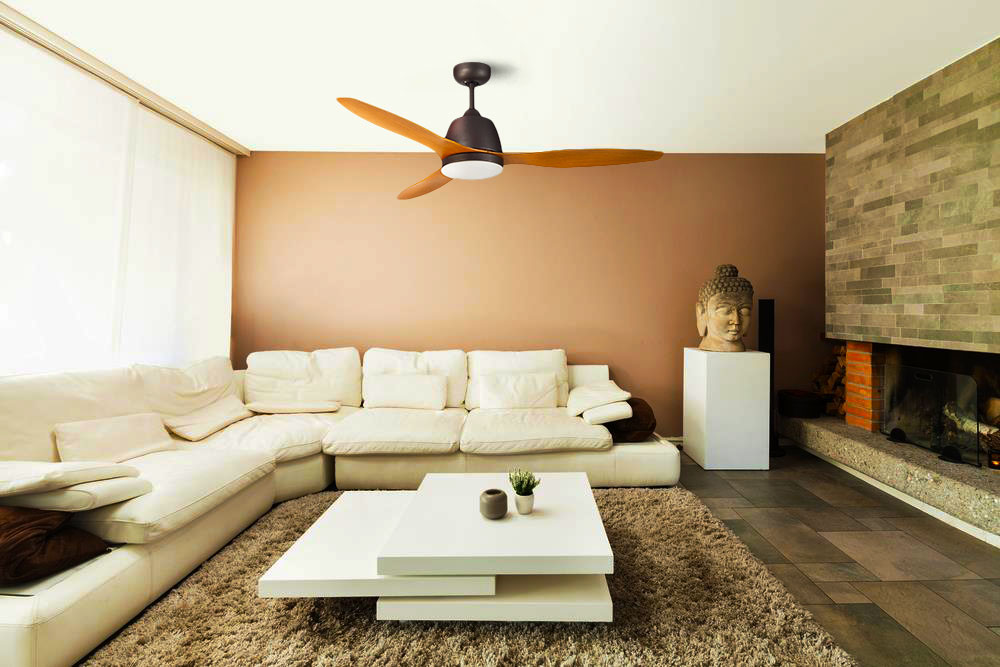 Ceiling Fan Control:
The Martec Elite ceiling fan comes standard with a three speed wall control and light switch to make installation simple. However in the case where installing a wall switch is not possible or if you prefer the convenience of a remote, the Elite fan can be fitted with the Martec Premier remote control for simple three speed fan and light operation, or with the Martec Premium LCD remote which also has a built in light dimmer and fan timer.
Colour Options:
Lastly but just as importantly, the Martec Elite ceiling fan comes in a wide range of colour option giving you even more choice when selecting the perfect fan. The Elite fan comes in the standard three base colours of White, Brushed Nickel with Silver blades, and Matt Black. However if you are looking for something a little more unique the Elite comes in either a Brushed Nickel or Matt Black for the motor housing and ceiling canopy but with a Bamboo finish for the blades. If this is still not enough, the Martec Elite fan can also come in a brand new colour combo that we have not seen before, an Old Bronze and Merbau finish on the blades, which in our opinion is a perfect colour choice if you are looking for something a bit different but with not too much contrast. These wooden colours can add a natural feel to your room even though are made of the very robust ABS polymer. Of course however, there is never a right or wrong answer when it comes to choosing a colour, the best option is the one that makes you happy!
The good and the bad:
We tried to look at each aspect of the Martec Elite ceiling fan and point out what we think is good and what is not as good objectively so that you get the full honest picture.
| | | |
| --- | --- | --- |
| | The Good | The Bad |
| Size | 48" (1200 mm) is perfect for small rooms or for when other lights might be too close to the fan. | Rooms larger than about 5 m x 5 m might not get enough air away from the centre of the room (refer to the airflow in the specs below). |
| Motor technology | AC motor is the most common type found in most ceiling fan and is known to be reliable. | AC motors compared to DC motors often use more power and usually only have 3 speeds. |
| Light option | The Elite comes either with or without a light built in | Light cannon be added or removed from the fan |
| Light technology | Dimmable 20W Integrated LED light with a CCT switch will provide a good amount of light with the option to dim and change the colour temperature. | |
| Fan control | 3 speed wall control included with an option to adapt to a remote control. | |
| Design and Colour | Stylish modern 3 bladed design with a relatively flat look for the no light model. 6 colour options including wooden colour. | The motor housing is a little larger than some other fans in this style, however it has a good shape that doesn't distract from the fan and lines up well with the light. |
| Materials | Moulded ABS blades are durable, safe, quite, easy to clean and are better balanced. The light cover is plastic rather than glass meaning it will get stuck less often and will not shatter if struck or dropped. | The metal parts such as the motor housing have the potential to form rust spots if placed in areas that are exposed to the elements and is therefore recommended for indoor use |
| Warranty | Martec 3 year in-home warranty (reachable at 1300 730 064) | |
Specs:
Size: 48" (1200 mm roughly)
Blade pitch: 11.5˚
Control: 3 speed wall control and light switch included.Remote control adaptable (sold separately)
Light: Comes either without a light or with a built in LEDlight
Light type: Dimmable 20W Integrated LED light with a CCT switch
Season modes: Fully reversible for summer & winter
Materials: Metal motor housing and canopy, and moulded ABS blades
Warranty: Martec 3 year in-home warranty, please contact thewarranty line at 1300 730 064 for assistance
Model numbers and colour options: (click on the following links to go straight to the product page)